Yamagataya Store GSK
address
31 Uwamachi, Nakamura, Soma City, Fukushima Prefecture
phone
+81-244-35-2966
Attention: Correspondence in Japanese only
fax
+81-244-37-2966
Attention: Correspondence in Japanese only
OPEN
08:00AM- 07:00PM
regular holiday
not fixed.
Please be sure to call us to check the store holiday in advance.
e-mail
yamabun@kss.biglobe.ne.jp
We can ship to Japan only by Yamato Transport Co., Ltd.
Attention: Correspondence in Japanese only/No delivery to overseas
access(31 Uwamachi, Nakamura, Soma City, Fukushima Prefecture)

click to view larger map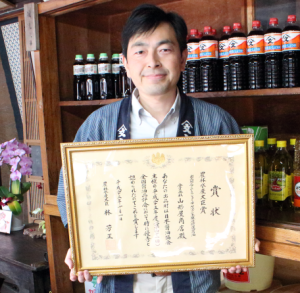 Kazuo Watanabe
representative partner, Yamagataya Store GSK
Bio
Kazuo Wanatabe was born in January 28, 1970 and grown up in Soma city,
Fukushima prefecture.
He started his career at Daito Bank after receiving B.A. from
Faculty of Economics, Tokyo Keizai University in 1994.
In 2001 he changed his career to join his family business; Yamagataya Store GSK.
He acquired a qualification to be a certified Miso master,
after passing a national examination in 2007.
(Certification No. 06-1-099-07-0005)
Being trained over ten years, Kazuo has been the fifth owner of the Yamagataya
store since 2012.
He won the award from the Minister of Agriculture, Forestry and Fisheries
for the best soy sauce at the 41th Japan Soy Sauce Competitive Show in 2013.