Naturally brewed Yamagataya Dark Soy Sauce
Dark soy sauce is a versatile flavor enhancer for a wide variety of food such as meat, fish and vegetable, which is frequently (84%) used in Japan than other types as light-colored soy sauce and Tamari soy sauce.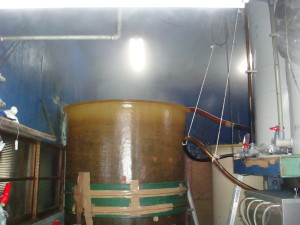 Seasonal ingredients cooked with the Yamagataya Soy Sauce makes Japanese food more delicious.
Having nice Japanese food, Japanese people are happy to be kind and gentle.
The Yamagataya dark soy sauce "Pure Brewed Choice Soy Sauce" is the honorable soy sauce that won the award from the Minister of Agriculture, Forestry and Fisheries for the best soy sauce among the 236 candidates across the country at the 41th Japan Soy Sauce Competitive Show in October 1st, 2013.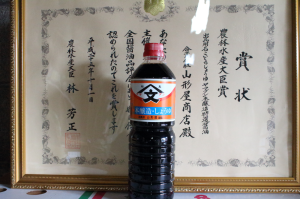 Our traditional natural brewing process can develop their rich flavor, appetizing aroma, mellow taste and distinct color, which was much admired.
As a representative of Fukushima Prefecture, we can prove that our products safe, high quality and tasty,
as well as that we have the finest brewing tradition.
Washoku, traditional Japanese cuisine was designated the UNESCO's intangible world heritage.
Soy Sauce is one of the most important and indispensable flavor enhancer for Washoku.
A small amount of soy sauce will make the other ingredients taste better.
Japanese pickles are balanced and less salty.
Tofu is more flavorful, drawing the sweetness of the soybean itself.
With the delicious flavor of soy sauce, any food will have great taste.
Devote his life to brewing
"The owner should always be at the forefront of making soy sauce" is the precept in Yamagataya. Kazuo Wanatabe, the fifth generation owner of Yamagataya has been trying to improve the taste and the quality of his soy sauce, leading production at the site, working earlier than anyone since his training period.
Every morning he talks toward the brewing tank "Thank you, the best soy sauce, appreciate!" ten times.
Kazuo hopes that everyone would be happy having the traditional local food in Soma, Fukushima,
appreciating the wisdom of our predecessors and the blessings of Brewing.